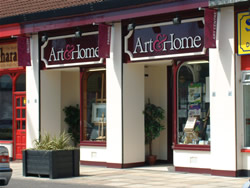 An Aladdin's cave crammed full of top branded art materials at the most competitive prices, and Art Gallery with a bespoke Guild Commended framing service.
Home is where the Art is ...

Art & Home, Holywood (Just outside Belfast) is a haven for anyone with a love of art. The two storey art store is also an art gallery, stocking all the professional artist and leisure painter could need. Materials stocked include: Winsor & Newton, Daler Rowney, Sennelier, Michael Harding, Schminke and Bob Ross to name a few!

Opening our doors as McKimm Brothers in 1958, the company changed its name to Art & Home in 1979. And so offers our customers advice from over 50 years of experience.

The Art & Home Gallery is a friendly and informal space exhibiting art by both Irish and international artists, including Tom Kerr, Terry Bradley, William Cunningham, Fabian Perez and Sue Howells.

A professional Guild Commended Framing Service is also offered with all work carried out on the premises. We offer expert advice to all our customers and tailor each framing job to the individual's preferences and requirements.

Normal Opening Hours: Tues - Sat 10am-5.30pm (Closed 1-2pm).