Free Car Parking for over 2000 cars and open late nights for more convenient shopping all year round.
Bloomfield centre offers you longer shopping hours AND FREE Parking not just at Christmas but all year round.

The centre opens Monday to Friday 9am to 9pm, Saturday 9am to 8pm and Sunday 1pm to 6pm. (Opening times may vary during special holiday periods). There are no charges for parking and special parking areas are provided for parent and babies as well as for people with disabilities. The new Tesco Baby shopping trollies are now provided at the main entrance to the centre. For people with disabilities, the centre operates the Shopmobility scheme for people who are registered members of Bangor Shopmobility which permits them use of the electric wheelchairs and scooters as well as the weekly bus service. All customers have access to the centre's free manual wheelchairs which can be booked ahead of time.

If you have any queries regarding any of the facilities at the bloomfield centre please contact our centre management team on 028 9127 0797.


Thursday, January 30, 2003
From: 12:00 AM to: 12:00 AM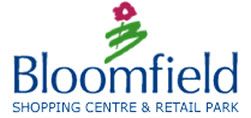 South Circular Road
Bangor
Co.Down
United Kingdom
BT19 7HB
TEL: 028 91 270797
FAX:028 91 270882