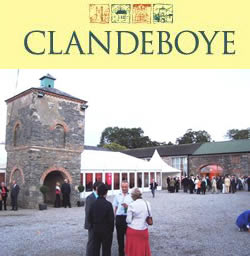 Clandeboye Estate provides an ideal venue for wedding receptions, conferences, corporate events and specialist activities, with off road driving and adventure facilities.
Wedding Receptions: Clandeboye Courtyard is the perfect wedding reception venue. We have a garden for photography, and can arrange a variety of activities in the Courtyard to entertain your guests.

Conferences: With glorious surroundings, peace and tranquility, Clandeboye is an ideal place to hold a conference. We provide exclusive private facilities for any number of delegates and an extensive range of equipment is available on request. Belfast City Airport and Belfast City are 20 minutes away.

Corporate Events: These include team-building activities and incentives programmes. The most exacting requirements are catered for. Situated within an 800 hectare country estate, we can tailor activities for every occasion.

Incentive and Specialist Activities: Some of the provinces' top-class hotels are in easy reach, while the rich heritage of the estate provides countless opportunities to build unique and tailored incentive events over and above our day to day corporate activities.

Off-Road Driving and other adventures at Clandeboye: A purpose built off-road driving course is tucked away, deep in our woodlands. The course was designed and built by Ireland Off Road, who are based in the Courtyard.