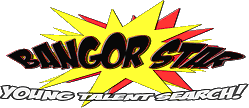 Bangor FM is based in the County Down town of Bangor and is one of the most exciting new short-term radio stations in Northern Ireland.
The radio station broadcasts on 106.3FM during August on the run-up to the annual 'Bank Holiday Weekend' festival in the town and broadcasts coverage of the 'Bangor Star' young talent search..

Bangor FM can be heard by a potential 80'000 listeners across North Down and broadcasts live from a custom built studio located within the towns busy Flagship Centre.

Supported by North Down Borough Council - Bangor FM is operated by Event Radio Services who are also responsible for broadcasting Castle FM based in Carrickfergus.

Bangor's own radio station broadcasts informative local news along with a selection of hit songs from the 80's, 90's and Today with plenty of entertaining chat for Northern Ireland's Biggest town!

Bangor FM can be heard across Bangor but also has many listeners tuning in from Groomsport, Newtownards, Carrickfergus, Whitehead and Newtownabbey....