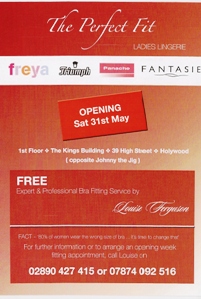 THE PERFECT FIT Ladies Lingerie Shop - Bra Fitting Specialist
1st Floor Kings Building

39-41 High Street

Holywood

(opposite johnny the jig)

02890 427415

Unfortunately being measured for a bra with a tape can give the wrong size and usually results in the following daily complaints:



" I always have overspill in the cups of my bra "

" My bra constantly rides up my back "

" I reach to any height and my bust falls out the bottom of my bra "

" I am fuller in the bust and I suffer from terrible back and shoulder pains "



Does any of the above sound familiar!!!



Well ladies hopefully I can help, I have been trained to professionally fit a bra and I can assure you it makes the world of a difference. Statistics do show that 80% of women are wearing the wrong bra size, usually too big on the back and too small on the cup, so please feel free to come along and see me to experience the uplift you have always longed for with NO surgery involved !!!

. every style, design, colour and brand are never the same fit, some fit bigger or smaller on the cup or back.

. The perfect fit is also beneficial to the more mature women because an ill fitting bra can cause shoulder and back ache

. the first signs of an ill fitting bra are straps falling of the shoulders constantly, bust falling out the bottom of the bra when arms raised to any height and over spill of the bust in the cup,



All of the above can be rectified by a professionally fitted bra and now the experience is available for you to find out. Call in for a FREE fitting consultancy with Louise Ferguson at The Perfect Fit in Holywood.