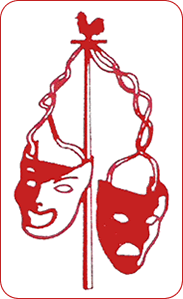 Holywood Players - Award winning amateur dramatics company established for over seventy years and going strong.
Back in the thirties, some members of a local tennis club found the winter evenings long and boring and decided to try out their dramatic skills. They were so successful that Holywood Players was formed and some seventy years later, the Players are still going strong. We are a small group with a membership of about 40 covering a wide range of skills and ages, indeed we are delighted to say we still have a couple of the original members. Although we would dearly love to have our own premises we are very fortunate in our current base at Holywood Yacht Club on Kinnegar Road, Holywood.

We have been very successful over the years. We stage three full-length plays each year, we are frequent winners and finalists on the festival circuit and we also enter the one act festivals with similar success.

It goes without saying that we are always delighted to welcome new members, if you are interested in any aspect of AmDram do come along.